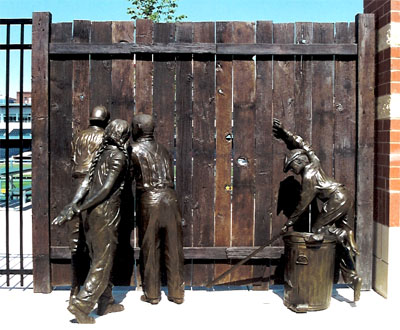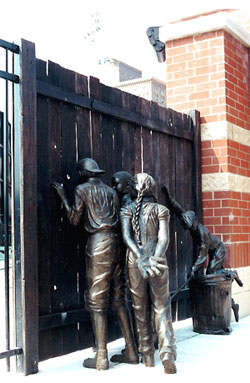 "Who's Up?" By: Emanuel H. Enriquez
A bronze sculpture now on permanent display in front of The Toledo Mud Hens Fifth Third Field in Toledo, Ohio.
"There are customs and activities that define a society. Baseball has been part of American history for over a hundred years. Writing this statement in August of 2002, after the events of September 11, 2001, and the threat of another baseball strike in the major leagues, my vision of a sculpture for the Mud Hen's baseball field in Toledo, Ohio, seems more pertinent and appreciative now than when I submitted the proposal in the spring of 2001. Although Who's Up? is based on the year 1927 when the Mud Hens won their first Pennant, Americans of all ages can reflect to their own era of baseball."
Emanuel H. Enriquez
September 2, 2002